We are very excited to inform all our users (and potential users) that we have added another platform to our growing network of platforms. BigCommerce is our latest addition.
BigCommerce is one of the largest "hosted" platforms. It offers its users an easily customisable storefront, that loads easily while still maintaining the site security. Its a one stop solution for all online entrepreneurs, and fully integrated with all possible tools a user may require while running a store seamlessly. Very similar to Outfy's way of functioning – as Outfy is also a one stop shop for all Outfy users' social media marketing requirements! So, an integration between the two will offer a more robust solution to users of both.
What does this integration mean for all you BigCommerce users?
BigCommerce users can now promote your products from your BigCommerce store on the following 12 networks through Outfy:
Facebook Page
Twitter
Instagram
Pinterest
Wanelo
Weheartit
Fancy
The Hunt
Keep
Tumblr
Kit
Juxtapost
What is Outfy's service offering?
Outfy is a tool designed and developed for the online entrepreneurs, with the sole motive of saving them time in their social media promotion activity, without pinching the pockets. Its easy to set, simple to operate and costs next to nothing!
You don't need to keep spending time in uploading product pics, copy / pasting the product descriptions, adding hashtags, inputting product and site URLs – Outfy does it all for you! And, it even rotates the hashtags for the personalised touch, so that posts don't look totally automated! All traffic is routed back to your online store – actual sale happens there only. And you retain full control – all settings are "customised' by you, as per your marketing strategy.
How can Outfy help BigCommerce shop owners?
Outfy can help you get the maximum footage for your social media campaigns, with the minimal time spent.
It can pick all the products directly from your BigCommerce online store, and post them on to your chosen social media, at your chosen time interval – all on a shoestring budget with a HUGE time saving, with just a few clicks! If you don't even want to invest the time to choose the products yourself, Outfy app has a handy "Auto pilot" feature, that auto selects the products based on your criterion input, and posts them on your behalf to your social media accounts.
Instead of spending 4-5hrs daily on the social media trying to build your brand online, you can just spend 1hr per month with Outfy and schedule the posts on Outfy scheduler for the entire month in advance! Saving of atleast 100 man-hours per month!
Then whether you go on a holiday or get busy fulfilling orders or just plain enjoying the weekend with family and friends – Outfy will still work behind the scenes to continue promoting your products and getting more traffic to your BigCommerce shop.
The cherry on the cake – Outfy comes with a unique pay-per-use concept, without any kind of a fixed monthly commitment. So you have the complete control over how much you spend. Outfy tool is for you to use as per your requirement / marketing budget / promotion plan.
Time is money, so isn't this double saving for you? And the best part is, its for you to try for free till you are fully convinced about its value add to your business. @Outfy, we respect your business as well as your money.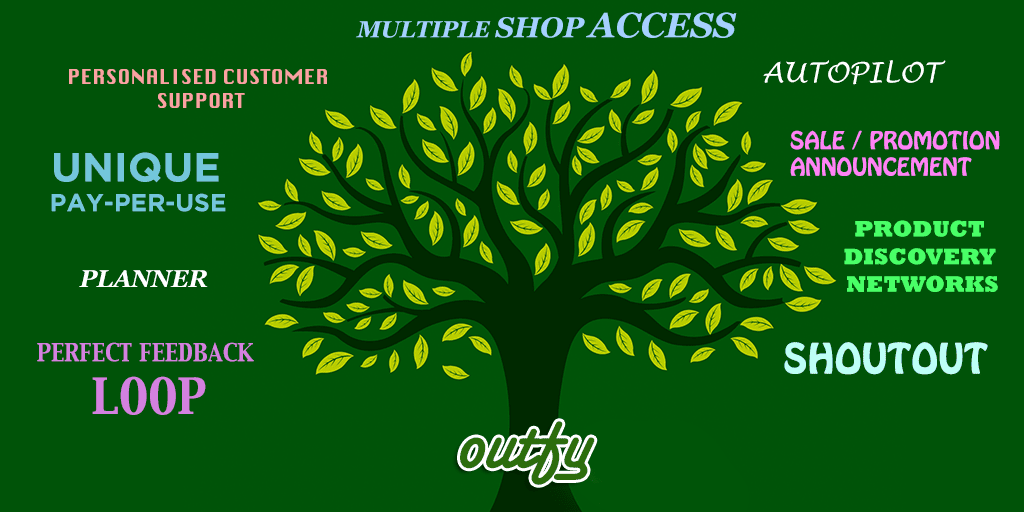 What is so unique about Outfy tool, that makes Outfy a must-have for all BigCommerce shop owners?
Users can make use of these Outfy service offerings to help save loads of time, so that you have more free time at hand to concentrate on other activities of your business:
Planner – You can post real-time or schedule your social media marketing activity days / weeks, even months in advance. So you just need to invest say 1hr in a month, and your posts would continue to go for the future days / weeks / months, on their own, without any further intervention required from your end
Shoutout –You can "blow your own trumpet" or just "speak your mind" with this feature. You can even schedule these for the future. You can repeat same multiple times over as well, by setting same just once.

You can share your promotion campaigns / deals / upcoming sales with your users
You can share links to your latest blog across chosen networks.
You can just speak your mind – anything to keep your customers / followers / friends – "engaged" with your business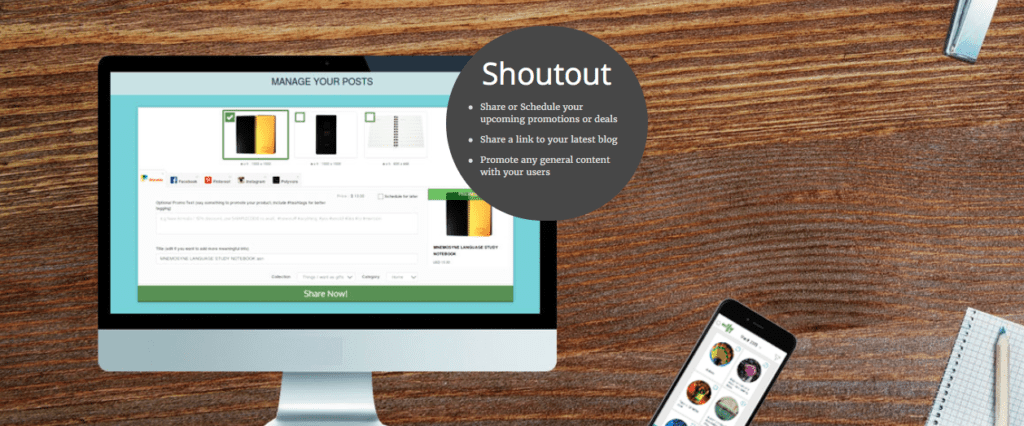 Autopilot – You can leave the responsibility on Outfy to auto select and share the products as per your scheduled time intervals / slots. This is one of the most outstanding features of Outfy, that ensures that the products from your online store are being promoted at regular intervals of time, every single day – WITHOUT spending time on selecting and scheduling the promotions on a daily basis!

You can choose:

the time span for your promotions (starting and closing time of the day)
the networks you want to promote your products on
the frequency per network
the product group you want to promote – latest or random or maybe even an equal mix of both
Even the categories / collections you want to promote or exclude (like off season products)

Autopilot ensures that all your products get a fair chance at being promoted:

Your new additions sell like hot cakes
Your old inventory that you had forgotten about also gets an equal probability of being promoted and finally moves!

You get to see a day in advance what exactly is going to be posted on your behalf the next day – you can even edit / delete the post if you so wish, for whatever reason
In short – even after putting your online store on automatic mode, you still decide the path that your "autopilot" will take your store to

Sale / Promotion announcement through templates– Outfy has preset templates available, that are fully customisable as per your product line and your wish / imagination. You can use same to:

announce a deal on a product
share a "coupon code" for your existing customers and future prospects
inform about sale on a particular collection
even put your compete store on sale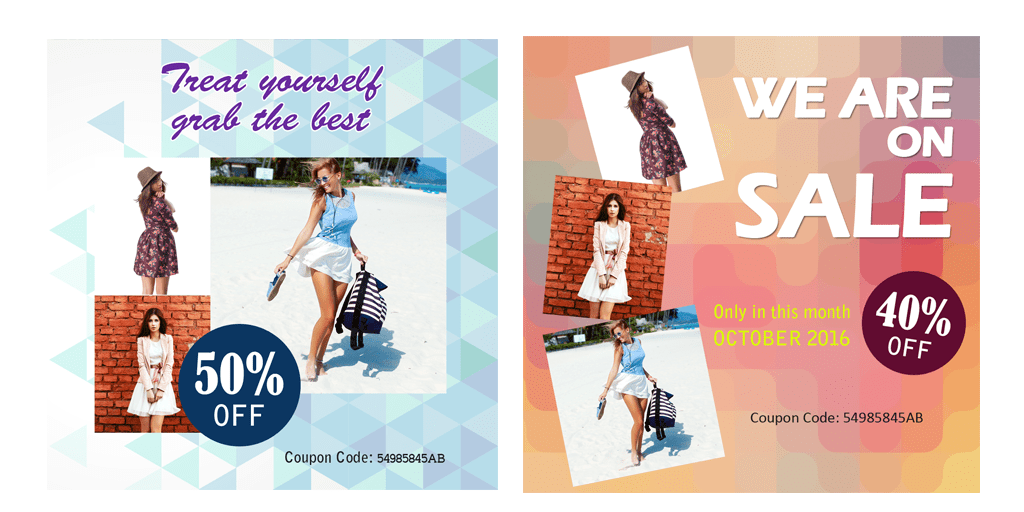 And like all Outfy features – this feature also supports the flexibility to post in real time or even schedule for the future, as per your strategy. These templates can be customised to include your shop's tagline and even your shop logo. So why hire a separate graphic designer when you can do it yourself, at no extra cost or much time input?
Product discovery channels – Outfy is the only tool that supports promotion on the product discovery channels, over and above the regular social media networks. You can promote your products on these off-beat networks by just registering as a normal user (merchant account not required). Traffic from these networks is routed back to your online stores, and actual sale happens there only. And as a new, upcoming brand – you stand a better chance to get a serious shopper on these networks as users are there looking for a particular product to purchase. These new buyers get added to your network, and eventually your sales as well as brand name grows.
Multiple Shops accessed from one single login mail – If you have stores on multiple platforms, you have a reason to be happy here as with Outfy, you can promote products on different social media accounts, picked from your multiple online stores – all from a single Outfy login. You can easily switch between your accounts, and even spread the credits across all your accounts. It was never this easy to wear so many hats, was it?
Perfect feedback loop – Outfy tool treats its users as the final voice. That's why we are very open to feedback and feature requests. Infact, we added BigCommerce to our network list after this came as a request from one of our existing users from another network itself. We work with our users as a partner in their growth, not just a service provider.
Personalised customer support – Outfy has been designed as a DIY (Do-it-Yourself) tool. But still if any of our users needs help / suggestions / directions / step by step instructions – we are there to help all the way. We offer round the clock support through chat and mails, for all our users, to get them comfortable with Outfy.
Unique Pay-per-Use pricing system – Last, but not the least in any way – Outfy DOES NOT charge any kind of monthly fees AT ALL. There is no fixed monthly commitment we expect from our users. You need to purchase credits and then use same as per your marketing strategy and the marketing spend you want to allocate to each network. Your credits NEVER expire. You can view and subscribe to any of the 3 types of plans on offer here, depending on your expected requirement.
Do you need more reasons to think further? Just click here to take full advantage of this integration between Outfy and BigCommerce, and get ready to see your sales break new records this year!